In my last post, I made the mistake of calling our house "finished." Like most projects in life, I don't think it will ever truly be "finished." So at this point, by "finished" I mean to say that phase one of the remodel is complete, we have come to the end of our budget, and just couldn't wait any longer to move in. After three months of remodeling, we now happily reside in our house. Each day I fall more in love with it, but in each of these photographs, I still see a list of projects yet to be completed and objects yet too be saved for. But at long last, here it is! Besides maybe our wedding, there has never been a project more personal and dear to my heart than this little house you'll find photographed below. Welcome to our home!
Living Room/Entry Before & After: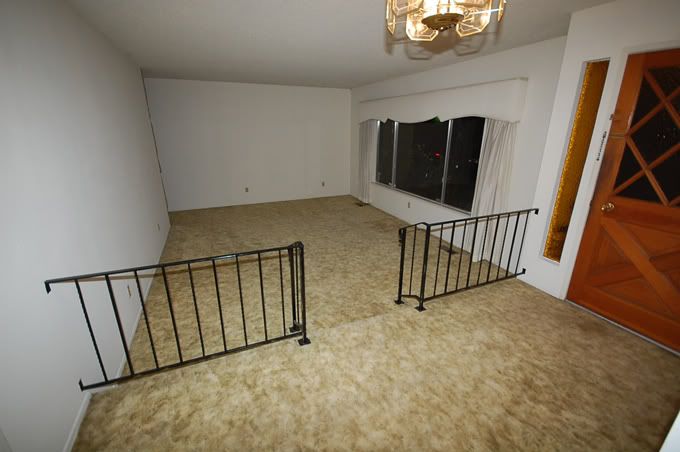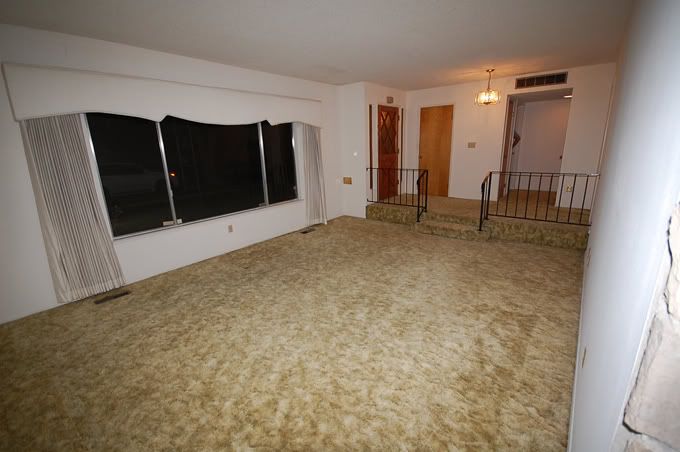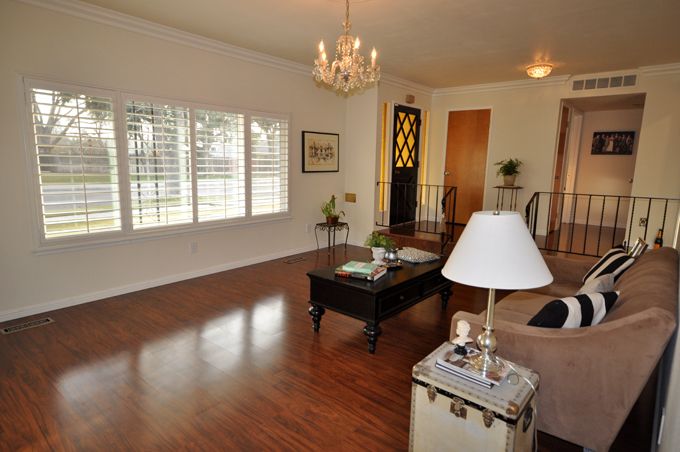 All of the furniture in this room is from our first apartment together. My favorite part of the living room is the crystal chandelier. I was so excited to finally have a place for it after buying it in an antique store in Asheville, North Carolina two and a half years ago. Since we moved in, my mom helped me paint the front door black, which I'm also pretty psyched about!
Kitchen Before & After: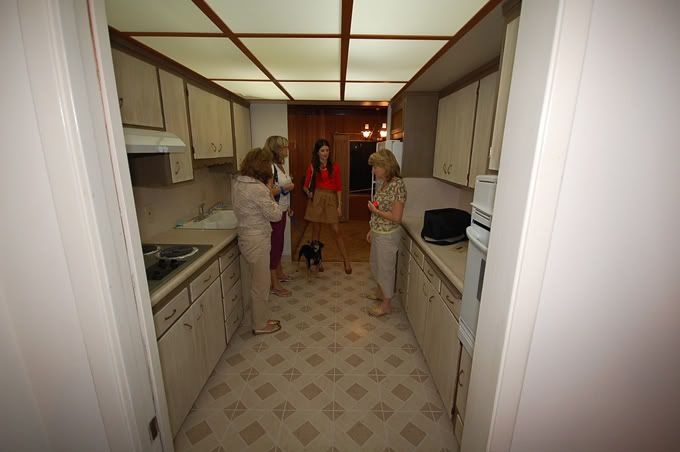 My hands-down favorite part of this room is the change we made to the overhead light fixture. I still can't believe how much it opened up the room!
Dining Room Before & After: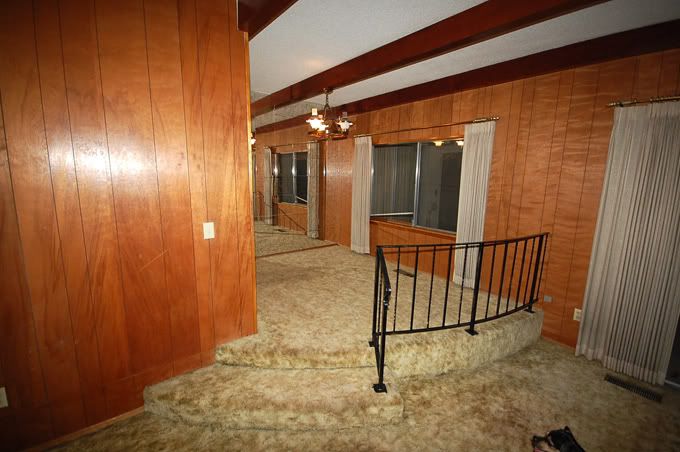 This may look like a simple little "room." However, one of the toughest projects of the whole remodel was removing the wrought iron railing and extending the curved steps, not to mention covering the curved steps in wood flooring. But I thought I would like this area opened up, and I was right--I love it. Definitely worth it. The dining set (antique) and rug are from our first apartment. The flushmount chandelier and coordinating sconces are from Home Depot.
Family Room Before & After:
We still can't believe what a new room this became after painting the wood paneling and shelving! I love how the beams and stone fireplace give the room a rustic vibe, which I normally wouldn't have chosen, but ends up balancing out my style quite well! The TV/stand is from our old apartment and the sectional (Ashley Furniture) was our first big furniture purchase for the new house!
Laundry Room Before & After: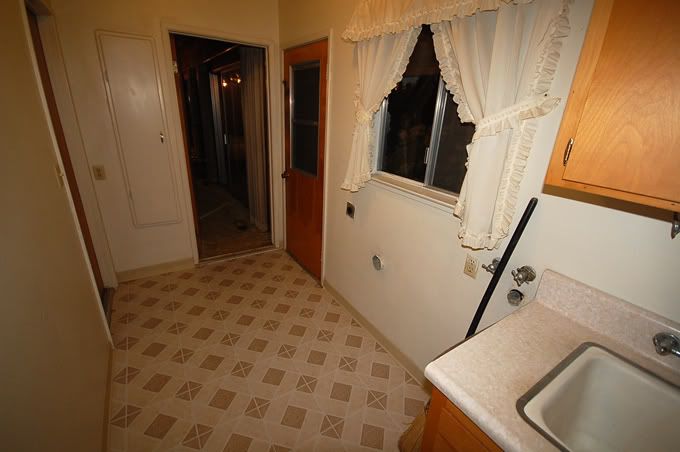 It may be a laundry room, but I got
the black and white tiled floor of my dreams
, so I'm a pretty happy camper! (Not to mention a new washer and dryer!) Looking forward to eventually getting around to decorating this room. And figuring out how to push the dryer all the way up against the wall. All in good time...
Master Bedroom Before & After:
Our bedroom consists completely of generous family hand-me-downs, except for our Pottery Barn bedding, which we got for our wedding. Like sleeping on a cloud. :)
Vanity Before & After: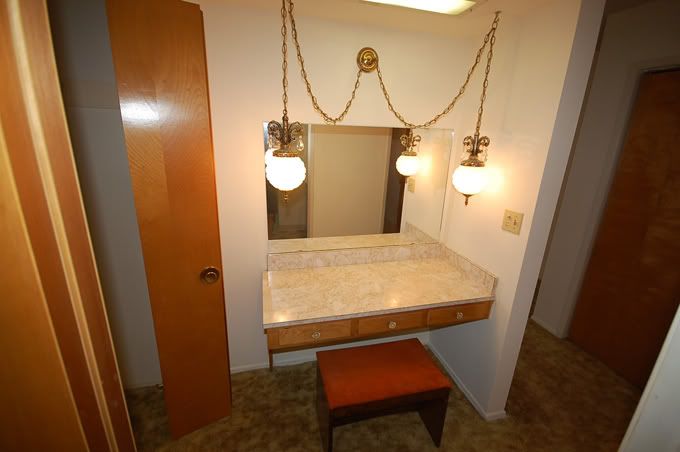 I can't even pretend to not be psyched out of my mind about my vanity area. It's still pretty 60's-licious, but my mom helped me cover the bench in leopard and I hung my cute little Chanel mirror I found at an antique fair a few months ago! I'm planning to paint the vanity table white and change the knobs.
Master Bathroom Before & After: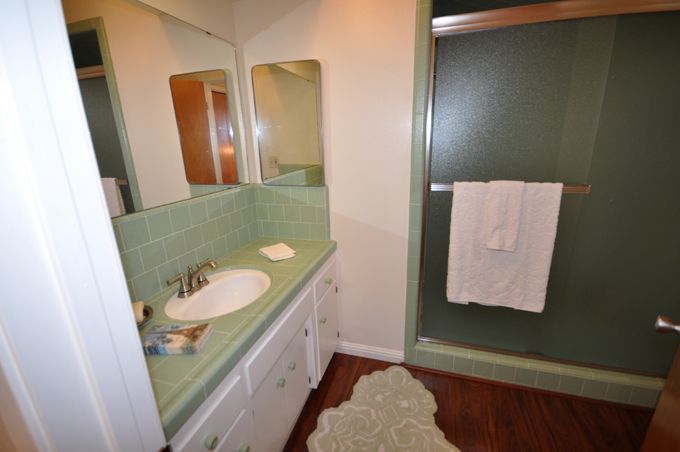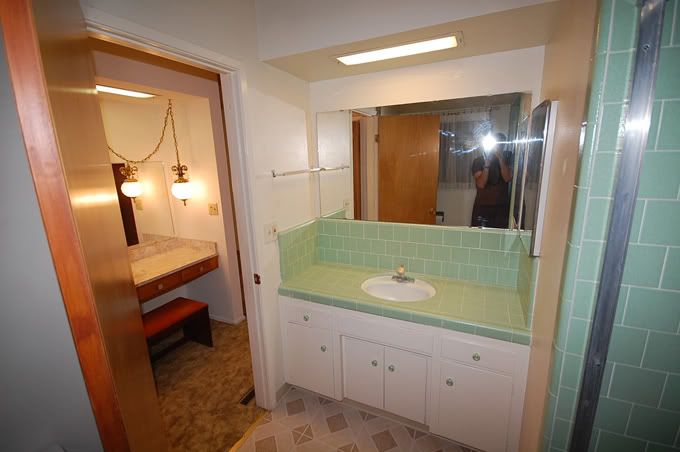 Most people find out our house has a mint green bathroom and are horrified. I decided to run with it! Ripping out all of that tile just would not fit into our budget, and finding
this rug at Anthropologie
opened my eyes to embracing the mint. Add a new faucet and shower door, and I think we managed to modernize our mint pretty substantially. I don't hate it! ;)
Guest Bedroom Before & After: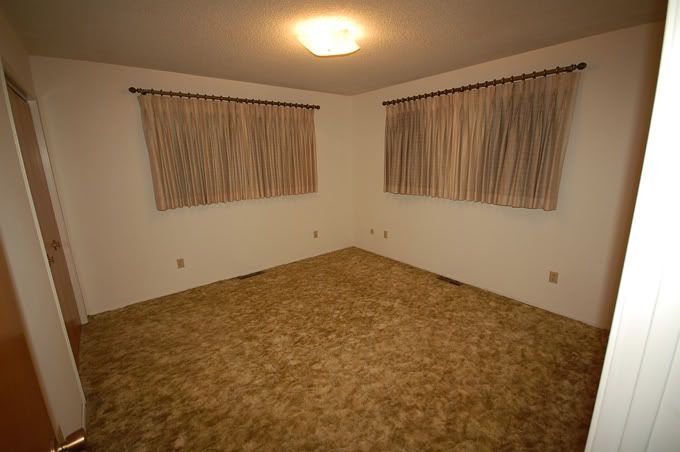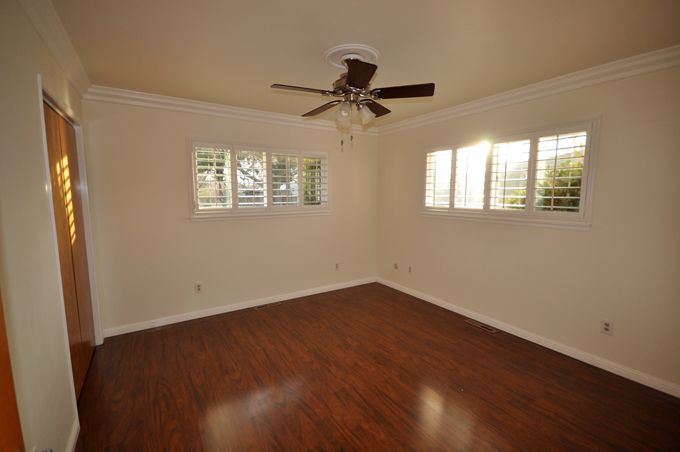 Our guest bedroom has nothing in it. Hopefully this will change when we manage to save up some more money. For now, not a priority. But pretty sweet new fan and crown molding, right?
Guest Bathroom Before & After: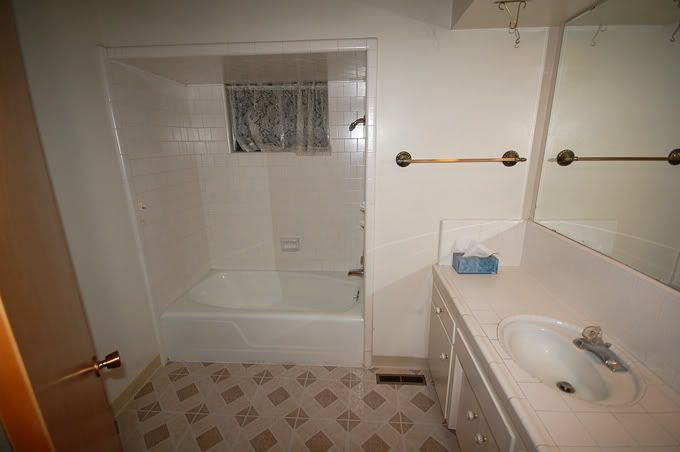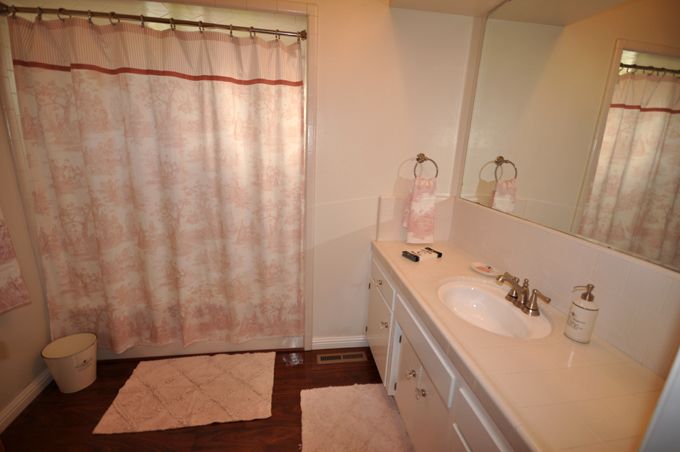 The theme of our guest bathroom consists of two of my favorite things: pink and toile. Shower curtain, towels, and bathmats are Waverly for Target, purchased about three years ago. The other accessories are from Pottery Barn,
still available
.
So there you have it! If you made it through that entire post and kept genuinely interested, I could just hug you! Although I attempted to give a quick little summary under each room, I'm sure I neglected many details. If you have any questions, or are curious about any specific project or source, please feel free to ask away in the comment section!
xoxo, bri
Catch up on our house tour here: The Before Pictures (Sep. 2012), The Living Room (Nov. 2012), The Kitchen (Nov. 2012), The Den (Nov. 2012), The Bedrooms (Nov. 2012)