Just as I'd anticipated, March was such a happy month, filled with fun surprises, promising opportunities, and memories made with family and friends. The highlights were my birthday and the engagements of my brother and my best friend! Although it all flew by quicker than I would have liked, March left me feeling so blessed and hopeful. I know we're already a few days into April, but here are some of my favorite images captured by my iPhone last month: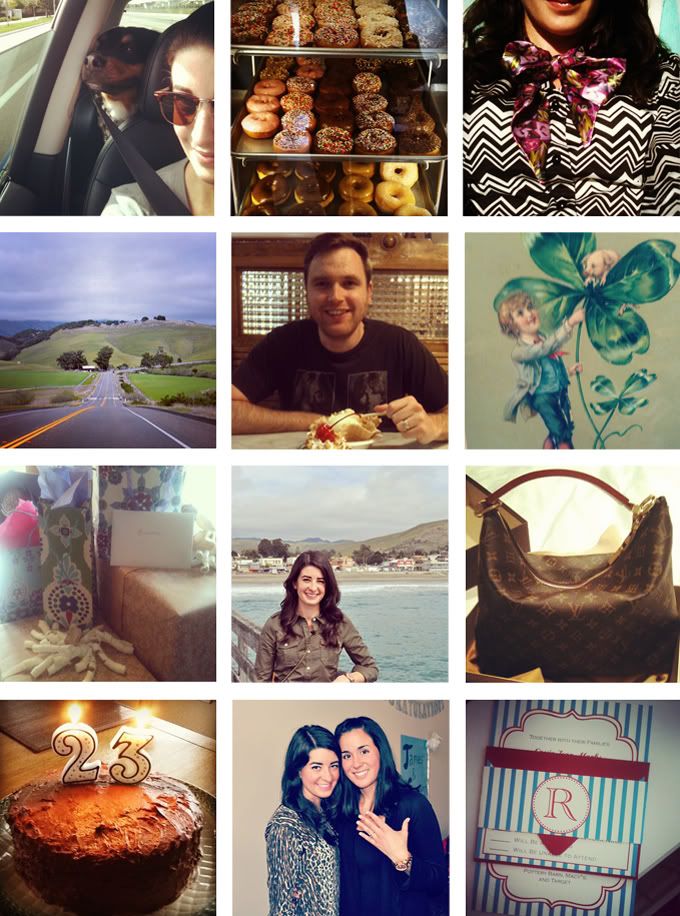 1. Riding in the car with my buddy, Dakota, in the backseat. He's absolutely my favorite passenger! / 2. Judy's Donuts. Need I say more? / 3. Mixing Missoni for Target prints/my first attempt at tying a scarf in a bow! / 4. The road ahead, on a beautiful drive. My favorite time of the year-- when the hills turn green! / 5. Sharing an ice cream sundae with Brandon / 6. A Victorian St. Patrick's Day card / 7. Birthday presents for me! / 8. On the Cayucos Pier / 9. New "Sully" bag. Talk about a generous birthday gift! / 10. Cake my dad made me from scratch / 11. Me and my newly-engaged, (as of March 30), BFF!! Yaaay! / 12. Wedding invitations I designed for my friend, Cassie. So fun to receive one in the mail the other day!
So, happy April!! What were your March highlights, and what are you looking forward to this month?